Relax and freshen up the day at the best concept swimming pool in Sukabumi.
The swimming pool at Taman Sari Hotel & Resort is not limited for swimming but also for other outdoor activities such as Wedding Parties and Birthday Parties. With its oval shape, the pool is available for both children and adults. 
The children's pool with a circle diameter of 5 m long and 30 cm deep and the adult pool with a length of 20.2 m and a depth of 50 cm to 160 cm.
SWIMMING POOL OPENING HOURS
✓ Open from 08.00 am to 17.00 pm.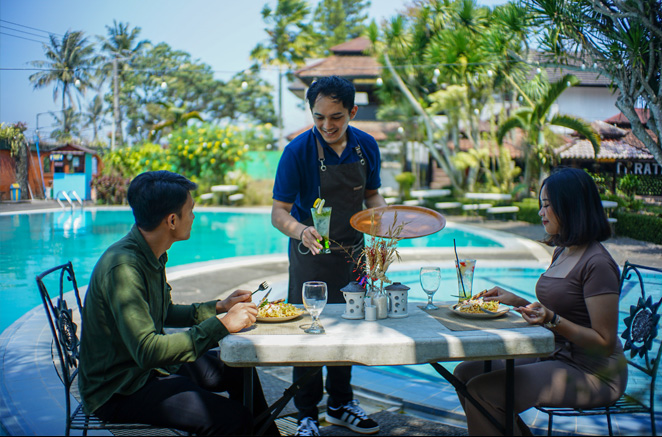 POLICY IN THE POOL AREA :
Every guest is required to wear swimwear when swimming.
Room guests are required to inform the Pool Attendant of which room they are staying in, this is for data or information if there is an emergency.

For visitors outside the hotel, an entrance ticket fee of IDR 20,000 is charged.

In an effort to maintain the cleanliness and order of the pool area, visitors are not allowed to bring food from outside.
Surrounding the pool area are lounge chairs and parasol umbrellas.
There are separate bathroom facilities for men and women.
There is a Pool Bar around the adult pool area which is provided for guests who wish to order snacks or drinks while enjoying the relaxing atmosphere of the pool.